Strategic Workforce Development, an innovative initiative of the Every Day Counts Program, suggests the importance of fostering an environment and partnerships favorable to training programs, pre-apprenticeship programs, and support for women and minorities in the construction workforce, among other strategies. The Rutgers Youth Success Program (RYSP), housed in Rutgers's Center for Advanced Infrastructure and Transportation (CAIT), has provided several strategic workforce development programming to vulnerable populations in and around Camden, NJ. While the program supports a variety of individuals, a majority of those served are justice-impacted and from historically underserved or vulnerable populations. With the continued success of these services, RYSP has grown and developed, most recently starting a new program focused on enhancing employment access in the transportation, infrastructure, and construction fields, called PACE (Pre-Apprenticeship in Career Education), sponsored by the Apprenticeship Office of NJDOL. The program has also taken a new name to reflect its expansion into serving adults and focusing more closely on employment: Rutgers Employment Success Program (RESP).
We interviewed Todd Pisani, the Training Director of Rutgers Employment Success Programs. Todd has been working for the past ten years on strategic workforce development programs for justice-impacted individuals in Camden, NJ. His work started with the creation of the Rutgers Youth Success Program and has developed into several Camden, New Brunswick, and South Jersey based programs focused on bridging employment gaps for justice-challenged individuals.
Q. Can you tell us about the Rutgers Employment Success Program?
A. The Rutgers Employment Success Program (previously the Rutgers Youth Success Program) supports up to 120 justice-impacted youth in and around Camden, NJ, with job readiness, career exposure, work experience, education, and legal services. The program addresses some of the challenges many young people face following involvement in the juvenile justice system, especially with employment and accessing education. The program is funded by the New Jersey Department of Labor & Workforce Development (NJDOL) and is a collaboration between Rutgers University and the Center for Advanced Infrastructure and Transportation (CAIT).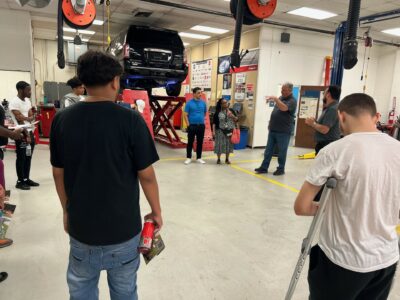 By the end of 2024, we will be serving 400 individuals and hope to increase this number going forward. While the program began with serving young individuals, we have found that expanding into an older age cohort, 18+ years, has been successful. We work directly with vulnerable populations — for example, black and brown people, individuals from historically underserved communities, returning citizens, or otherwise justice impacted people — to address employment barriers. Our approach includes consideration and support for people with mental, behavioral, or psychiatric health challenges. In addition to our on-the-ground work, we advocate for the change of harmful systems that pose barriers to employment by initiating a change in language and policy that have historically slowed progress and support for the populations we serve.
Q. How did you get involved in the Rutgers Youth Success Program and what has kept you involved for the past 10 years?
A. After several years as an employee affiliated with the Cooperative Extension program at Rutgers, Camden, we were successful in putting together a team that included Dr. Clifton Lacy, former Commissioner of Health and head of the Robert Wood Johnson Foundation that attracted federal funding. That 1.2 million dollar longitudinal research project studied recidivism and violence among justice impacted youth over 3 years, and led me to collaborate with Rutgers CAIT. When a staffing change presented an opportunity, we were able to move the continuation of funding from Cooperative Extension to CAIT. The program remained consistent with its goals and mission and our support for individuals remains the same, but we have been able to expand the program and strengthen our ties to the engineering, transportation, and infrastructure realm.
Q. One of the goals of the Rutgers Employment Success Program is to address some of the barriers under-represented, or justice-challenged individuals face when pursuing a career. What do some of these barriers look like and how is this program targeting these?
A. The barriers are baked into the system as a whole — and there are many organizations and even political movements that are working to change that trajectory. The most prevalent barriers include:
The outrageous and arbitrary time individuals must wait after incarceration to even be considered for some positions. We combat that by pushing for improved hiring policies, advocacy efforts in a variety of environments including discussions with trade unions, partnerships with community colleges and their affiliates, and developing relationships with specific employers and helping them see the value in hiring returning citizens.
Trauma and PTSD are common effects of incarceration and experience in the justice system. These conditions may make finding or receiving employment challenging and advocating for oneself even more so. We lead our program from a strengths-based trauma-informed approach, ensuring that everyone is treated with respect, honor, and dignity.
Justice-impacted individuals are often restricted from decision-making rooms. We utilize our privilege by inviting in justice-impacted leaders to rooms they often are kept from. We have several justice-impacted individuals on our team, so we lead by example. The resulting interactions with Judges, attorneys and law enforcement encourage human to human interactions and help those in power rethink their language and approaches.
Low exposure to higher education. We encourage individuals to dream and follow their professional interests. Our program also provides individuals with tours of colleges and supportive conversations, proving that it is a viable option for them.
Q. How has the Rutgers Employment Success Program been received by justice-challenged individuals?
A. There are hits and misses, like any group of individuals. We hire people who are reflective culturally of the communities we serve — most of the team are black or brown people, including the team leads. We have several Spanish speakers on the team. And 2 have been justice impacted themselves, one a well-known community leader who spent over 30 years in prison for a crime committed as a teenager. He earned his degree in Criminal Justice from Rutgers while incarcerated as part of the NJ STEP (Scholarship and Transformative Education in Prisons) program, and has emerged as an amazing advocate for returning citizens, and has helped us link to the returning citizens community in an authentic, immersive, and heartfelt way.
Our past participants have been extremely helpful with refining our practices by voicing their own experience and suggestions for improvements. Most recently we changed some of our intake paperwork to make it easier to access and friendlier, as requested. Participants have also identified system challenges, like the selective service status letter requirement which automatically creates a barrier for some. We really appreciate this feedback, and we also look to our sponsors for advice and suggestions.
Q. Are there any populations you are having difficulty reaching?
A. The population we serve is mostly minorities and men. We have promoted and recruited our programs across gender identities and have had female program coordinators. However, our most recent research project was a 90/10 split male to female. This is most likely a result of the gender disparity of justice-impacted youth; there are far less women and girls entangled by the justice-impacted world. We have engaged young women in our apprenticeship projects and have a black female instructor who teaches occupational safety and heavy equipment—she is very active and vocal about bringing women into the trades. Our hope is to encourage more women into the field; however, we don't necessarily want more females to be impacted by justice. Since the NJDOL has infused the importance of targeting other populations into their grant opportunities by listing the variety of individuals traditionally harder to reach or less likely to consider the trades, we expect that employers and trade unions will follow suit and make diversity and inclusion a priority, if they haven't already.
Q. Why are transportation and infrastructure important fields for the population you serve to connect to?
A. Many of our individuals we serve or have served identify hands-on work as appealing to them. They tend toward less office-based employment and more toward the trade industries, including transportation. Other fields of interest include construction, heavy equipment, offshore wind and other green energy solutions.
Q. Speaking of participant interest in construction and transportation careers, tell us about the new RYSP program, PACE.
A. The Pre-Apprenticeship in Career Education program, or PACE, is an exciting new apprenticeship program that has recently been added to the suite of Rutgers Youth Success Program services. The program is modeled after past NJ Department of Labor and Workforce Development models and will prepare participants with the necessary experience to apply for apprenticeships. Our program began in July 2023 and currently has funding for 30 participants from around the North Brunswick area. PACE goes beyond the foundational support that RYSP provides to disconnected or justice impacted youth, by increasing direct services to emerging adults 17-24 years old who are not immediately interested in or applying to college but would like to explore immediate career options.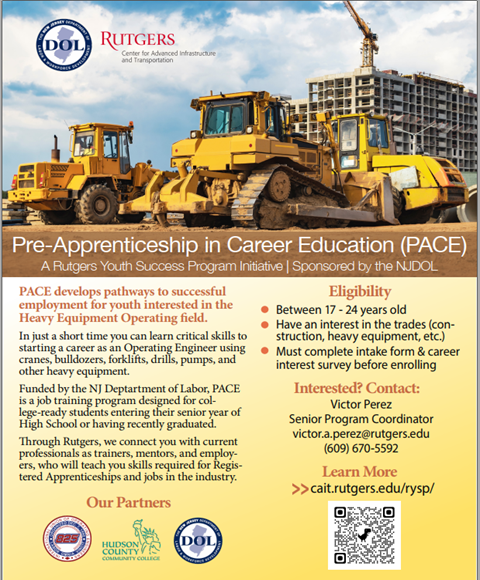 This program follows several successful programs through RESP, and in many cases incorporates the lessons learned from previous participants. Individuals not pursuing a degree following high school are often encouraged into service industry fields and healthcare, as preparation programs are more readily available. However, past participants have really expressed interest in hands-on skill training and work. Therefore, PACE is aiming to address this gap by establishing pathways for underserved populations to work in the transportation, infrastructure, or construction fields. In this case, participants will move through the Operating Engineers introductory curriculum, which includes:
10 hours of on-the-job shadowing, with placement support through Hudson County Community College;
30 hours of training to receive OSHA construction industry certification that will be provided by our long-standing partnership with Myers Crossing LLC.
Taking the Operating Engineers introductory course at Hudson County community College
Exposure and connections to Local 825, the International Union of Operating Engineers, which has a hands-on training facility and a training initiative with Hudson County Community College, its Earn and Learn Program.
The goal is to expand the possible futures of each participant, allowing them to:
Begin an entry-level job in the transportation, infrastructure, or construction field.
Participate in a registered apprenticeship program.
Enroll in an educational program, like the Associate of Applied Science in Technical Studies at Hudson County Community College
We anticipate making employment, apprenticeship, or full-time training or education quality placements for at least 20 of our pre-apprentices in operating engineering by December 2024.
We also have built a relationship with NJ Transit, NJDOT, and other large infrastructure related employers and are hopeful this will assist with job placements for younger people (18-19 years), which can be more challenging.
Q. In addition to the new PACE program, you are listed as the part of the lead research team for the EDC-7 Pilot Evaluation of Strategic Workforce Development for Justice-Challenged Youth research project. Could you tell us more about this work?
A. This is a very new research project, so I don't have a lot to share yet. Our team will develop a set of best practices for strategic workforce development in the transportation and infrastructure fields using a nationwide survey of current workforce development programs that assist justice-impacted youth. The research is managed by the National Center for Infrastructure Transformation, led by Prairie View A&M University in Texas, and performed by Rutgers University and the Prairie View A&M. My hope is to strengthen our current efforts and support multiple projects through this project.
Q. What types of agencies will benefit from these best practices for Strategic workforce development?
A. We are voting members of the Camden Youth Services Commission; each county has a version of this. The biggest benefactor for this research project will be the local youth justice system folks who are always seeking alternative methods for creating positive preventive and diversionary pathways as well as providing alternatives to detention or other punitive responses especially for young, justice-impacted individuals. Partner organizations that include the community colleges, Pathstone, Volunteer's of America, and others will benefit from having access to a database of models for moving impacted young people into the workforce or training sectors. The transportation employer sectors, and other employers can benefit when presented with supportive data from other areas where these projects have found success. For example, if they are doing something amazing and successful in California that we can replicate and demonstrate its efficacy using data, it can potentially erode resistance and allow for larger organizations to overcome the risk factor and partner with organizations like Rutgers providing the support services to lean toward success for all.
Q. Do you have any final thoughts that you would like to share?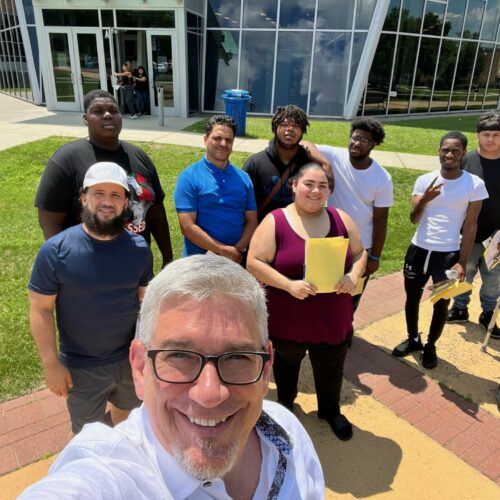 A. We had an 82 percent benchmark attainment rate at the conclusion of the pilot Bridges program, which we are now in the first year of a 3-year continuation cycle. That project grew from serving 40 during the beginning of the pandemic when no in-person contact was allowed, to 100 served in the Camden area alone in 2022, and we are now on track to serving 120 in Camden and New Brunswick.
We have sought to successfully intertwine research and community-serving initiatives through multiple projects – our four NJDOL projects have been specifically project-based with no research specifically attached to them. The EDC-7 Pilot Evaluation Study of Strategic Workforce Development for Justice-Challenged Youth, as well as others, can help to attract attention, provide reinforcement for our effort, and place the work itself into a scholarly context. We believe we can use the research to refine our projects, but also improve the design of research about the populations we serve.
Language is an important component of our work; for instance, we started using the term "justice impacted" instead of justice involved, primarily to demonstrate that nobody really wants to be "involved' in justice world, and to plant the seed that there is an impact here that can shift the whole picture for many folks, especially black and brown individuals who have been disproportionately targeted and treated differently at all levels of the justice system, including in policing, sentencing structure and disciplinary policies in schools. Research helps solidify philosophical or observational notions, and provides an undergirding for the work itself, which for our implementation teams is the most important factor—helping to shift the trajectory for a young person, or an older individual for that matter.
---
Resources
Rutgers Youth Success Program
https://cait.rutgers.edu/facilities-equipment/rutgers-youth-success-program/
Federal Highway Administration, Every Day Counts Round 7, Strategic Workforce Development
https://www.fhwa.dot.gov/innovation/everydaycounts/edc_7/strategic_workforce_development.cfm
Hudson County Community College, Workforce Development
https://www.hccc.edu/programs-courses/workforce-development/index.html
International Union of Operating Engineers, Local 825
http://www.iuoe825.org/
NJ Community College Consortium for Workforce and Economic Development
https://njworkforce.org
Camden Youth Services Commission
Youth Services Commission | Camden County, NJ
National Center for Infrastructure Transformation Prairie View
National Center for Infrastructure Transformation (NCIT) – Led by Prairie View A&M University (pvamu.edu)
Associate of Applied Science in Technical Studies at Hudson County Community College
Technical Studies AAS (hccc.edu)
Operating Engineers Local 825 Earn and Learn Program
825 Earn and Learn
For information on current workforce development programs see:
NJ Department of Labor, Office of Apprenticeships
https://www.nj.gov/labor/career-services/apprenticeship/
NJ Pathways to Career Opportunities
https://njpathways.org/centers-of-workforce-innovation/
For information on re-entry support programs in New Jersey visit: Governor's Reentry Training & Employment Center NJRC (njreentry.org)
For information on re-entry support for women, visit: The_Womens_Project_2023.pdf (njreentry.org)