The 21st Annual New Jersey Department of Transportation (NJDOT) Research Showcase was an opportunity for the New Jersey transportation community to learn about the broad scope of academic research initiatives underway and share technology transfer activities being conducted by institutions of higher education partners and their associates.  The annual event serves to highlight the benefits of transportation research, including NJDOT's own research program. As part of the event, various awards were presented for implementation-minded research, innovation, and outstanding work performed by university students studying in a transportation-related field.
The day's Research Showcase Program included a plenary morning session with welcoming remarks, a keynote speaker and a knowledgeable panel of industry, university and NJDOT representatives offering their perspectives and fielding questions on how innovations in connectivity today and in the future may affect safety, mobility and equity.  The afternoon included several rounds of breakout sessions on innovation, safety, equity and mobility as well as a poster session.
NJDOT Commissioner of Transportation, Diane Gutierrez-Scaccetti, provided opening remarks along with the Federal Highway Administration's Assistant Division Administrator in New Jersey, Valeriya Remezova.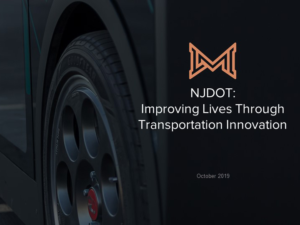 The morning's featured keynote speaker was David C. Woessner, an Executive Vice President for Corporate Development and External Affairs, at LM Industries + Local Motors.  His presentation included an overview of his firm's products, markets and initiatives and its orientation toward addressing the big challenges in the adoption of technology solutions to improve mobility.
His talk included an overview of the research, development and testing of Olli, a Low-Speed Autonomous Vehicle Platform, and the use of 3D printing for its production. During his talk, Mr. Woessner touched upon his firm's testing and validation activities deploying a shared autonomous vehicle (AV) in a controlled environment and preparing a Voluntary Safety Self Assessment (VSSA) in response to the U.S. DOT's voluntary guidance on automated driving systems.
In discussing mobility challenges, he explained the long-term vision for deployment of shared autonomous vehicles as a last-mile/first mile connector service with transit nodes, and as an on-demand micro-transit solution to maximize service coverage and serve traditionally underserved populations such as persons with disabilities, the poor or others who live in transit "deserts" who may be inadequately served by existing fixed route transit routes.  However, at the current stage of design and testing, Olli is well-positioned for deployment in more controlled campus environments -- for example,  university campuses,  business and industrial parks, military bases, municipalities, entertainment and theme parks, private residential communities, and airports.  As the market matures and as testing and validation warrants, the expectation is that Olli will transition from private campuses to public roads.
During the event, several awards were given in recognition of research, innovation and implementation efforts.  Below is a listing of the award winners recognized at this year's showcase:
2019 NJDOT Research Implementation Award - Peramulsamy N. Balagauru, Rutgers University, Center for Advanced Infrastructure and Transportation, Protocol for Accepting Over Paint on Steel. The Research Advisory Committee of the American Association of State Highway and Transportation Officials (AASHTO) selected this NJDOT project as one of 16 high-value research projects for 2019 in the category of Smart Maintenance and Preservation earlier in the year.
2019 NJDOT Build a Better Mousetrap (BABM) Award - The 2019 BABM Award was given for a Bridge Fender Navigation Lighting Reflective Backup System to Gerald Oliveto in NJDOT Operations Support and Engineering. Retroreflective panels were installed on NJDOT bridges in navigable waters to better identify bridge piers and serve as a backup system for navigation lighting.  The backup system avoids the burden of potential fines for malfunctioning navigation lighting and additional costs for emergency work orders and overtime repairs to the bridge fender navigation lighting system.  The panels provide an enhanced safety feature to the maritime community by allowing for increased visibility of the bridge fender systems and can safely identify the channel margins should navigation lighting malfunction.  The low cost application can be transferred to any other agency with bridges spanning navigable waterways; such as NJ Transit, counties, port authorities/commissions, and other state DOTs.
2019 Best Poster Award - Xiao Tan, Stevens Institute of Technology
2019 Outstanding University Student in Transportation Research Award - Daniel Offenbacker, Rowan University
Those in attendance were also informed of recent awards given to NJDOT in recognition of initiatives in research and innovation.  Presented by Ms. Remezova of FHWA, the awards were given for the AASHTO 2019 Sweet 16 High Value Research Award and for AASHTO 2019 State Transportation Innovative Council (STIC) Excellence Award.
The 21st Annual NJDOT Research Showcase was organized and sponsored by the NJDOT Bureau of Research in partnership with the New Jersey Local Technical Assistance Program (NJLTAP) at Rutgers Center for Advanced Infrastructure and Transportation (CAIT) and co-sponsored by the Federal Highway Administration.
Below are presentations and posters from the afternoon breakout sessions.  All the files below are in PDF.
BREAKOUT SESSIONS
INNOVATION