NJDOT, FHWA and NJDOT held a series of three Local Safety Peer Exchange events for municipal and county representatives to share best practices in addressing traffic safety.  These full-day events brought together representatives of NJDOT, FHWA, counties, municipalities, and Metropolitan Planning Organizations (MPOs) to discuss project prioritization, substantive safety, implementation of FHWA safety countermeasures, and use of a systemic safety approach.
The Local Safety Peer Exchanges Summary Report provides an overview of the event proceedings, including the presentations, workshop activities and key observations from the Local Safety Peer Exchanges held in December 2017, June 2018, and March 2019.
The Local Safety Peer Exchanges were funded, in part, though the use of a State Transportation Incentive Funding (STIC) grant.  The Local Safety Peer Exchange events are well-aligned with the FHWA Technology Innovation Deployment Program (TIDP) goal: "Develop and deploy new tools and techniques and practices to accelerate the adoption of innovation in all aspects of highway transportation."  The focus of the Local Safety Peer Exchanges is also consistent with two of the FHWA's Every Day Counts (EDC-4) Innovative Initiatives: Safe Transportation for Every Person (STEP) which supports the use of cost-effective countermeasures with known safety benefits to address locations of fatal pedestrian crashes; and Data-Driven Safety Analysis (DDSA) that uses crash and roadway data to reliably determine the safety performance of projects.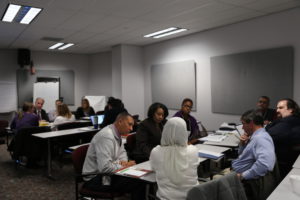 The summary report provides documentation of the agenda, presentations, highlighted tools and model practices, and workshop activities for each of the Local Safety Peer Exchange events, including the December 2017 event.