NJDOT has launched the Professional Engineering Design Experience Program (PEDE) – an innovative initiative providing current NJDOT engineers with the opportunity to gain the required design experience necessary to achieve their professional engineering (PE) licensure. Engineers expressed the desire to remain with NJDOT and needed the ability to obtain a PE license to reach career goals. In launching the initiative, NJDOT recognized the need and responded to employees with the development of The Professional Engineering Design Experience Program (PEDE).
The PEDE program will offer engineering staff that have a bachelor's degree in engineering from an accredited university, who do not currently have design responsibilities, the opportunity to work alongside a PE-licensed colleague to gain the design experience required to obtain their own PE license while remaining on the job at NJDOT. The PEDE program will build relationships between staff members as mentors and mentees who meet the program requirements as outlined in the PEDE Program Guidebook.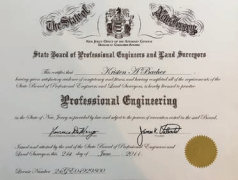 Mentees will have the opportunity to design projects such as: crash cushions; guiderails; pedestrian improvements such as sidewalks and ADA curb ramps; minor intersections improvements such as turn lanes, minor widening, corner cutbacks, signing and striping; sight distance issues/improvements; and minor drainage improvements through grading and re-profiling.
The program also creates leadership opportunities through mentorship. Having talented,committed leaders as mentors is critical to the success of the program. A good mentor will be a proven team player, have strong communication skills, and be a good instructor that is willing to encourage and support his or her mentee. Other requirements are outlined in the PEDE Program Guidebook. Employees can review the PEDE Program Guidebook on the NJDOT intranet.
Article adapted from the April 2019 Transporter, the NJDOT employee newsletter.