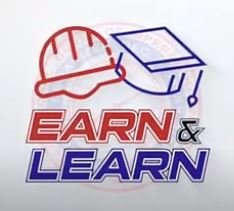 Strategic Workforce Development, an FHWA Every Day Counts (EDC) Round 6 and 7 innovation, anticipates collaboration between government agencies, trade organizations, private agencies, and communities to prepare individuals for the construction workforce. The demand for workers in highway maintenance, construction, and operations is growing, as is the demand for new skill sets required for work with emerging technologies. The recruitment and retention of women and minorities in the construction sector is integral to the initiative. Through on-the-job training and supportive services program, NJDOT is exploring ways to work with contractors, contracting associations, and unions on shaping the future workforce, including programs aimed at increasing representation of women, minorities, and other disadvantaged populations in the construction and operations workforce.
We spoke with Lori Margolin, the Associate Vice President for Continuing Education and Workforce Development at Hudson County Community College (HCCC) and Greg LaLevee, Business Manager, International Union of Operating Engineers (IUOE) Local 825 for an update on their apprenticeship program entitled Earn & Learn.
Earn & Learn Program Background
The IUOE Earn & Learn program is an advanced manufacturing initiative supported by a NJ PLACE 2.0 grant. HCCC and IUOE Local 825 established the program in November 2021 through an articulation agreement. The program gives students the opportunity to be dually enrolled in the union apprenticeship program and HCCC, where they will earn an Associate of Applied Science in Technical Studies degree after they complete 60 credits.
During an 18-month period, participants earn 30 credits from on-the-job training and education provided by the union and are scheduled to earn the other 30 credits from HCCC over five semesters. They attend HCCC part-time, taking two classes per semester and earning six credits per semester on average. All classes are offered in a virtual modality.
Q. The Earn & Learn program has been operating for a little over one year. How is program implementation going so far?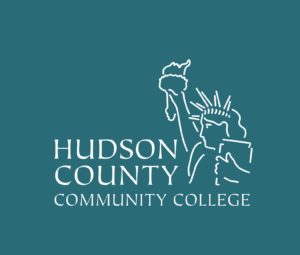 A. Implementing the program with this first cohort of students has been a learning experience for both the HCCC and IUOE Local 825, as this initiative is the first of its kind. Program implementation is going well overall, with challenges noted below. Twenty-four of the 30 students initially accepted into the program remain enrolled. Factors influencing departures included health issues and struggles for some with the academic or other program requirements. The program is on-track to initiate a second round of applications later this year for the spring 2024 semester.
Q. Are you making modifications to either the academic component or the hands-on training based on your experience in the first year of implementation?
A. As initially planned, students would earn an Associate of Applied Science in Technical Studies degree after they complete 60 credits. However, we have reconfigured the degree to more closely align with the construction industry; students will earn a degree in Technical Studies with a construction concentration.
The course work has been altered to be more directly relevant to the construction industry and to what students are learning at IUOE Local 825. For example, we have replaced some of the math and science courses more directly aligned with the HCCC construction management course work.
While all participants take the same coursework, some modifications are available to accommodate students on different pathways. For example, a student seeking to continue their studies at a four-year university should likely take a Calculus course, whereas those not wishing to continue their education beyond an Associate Degree may opt for other available math courses.
Q. What have been the key challenges you have encountered so far in the program implementation? How have you addressed those challenges?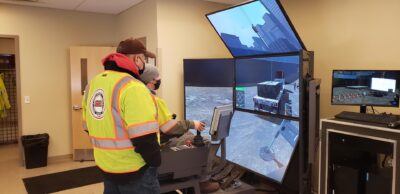 A. One of the main challenges can be scheduling as students must meet the demands of their on-the-job training, as well as their classroom instruction requirements. Construction jobs may be located far from one's residence and/or require off-peak work hours, which compounds this scheduling challenge.
Many of the participants have not had recent experience with balancing academic demands with on-the-job training. Many of the students are 25 years of age or older and have not been enrolled in school for several years. For such students, re-entering the classroom can be a "culture shock," and requires them to learn how to prioritize academic studies.
This is often an issue in adult learning so both a HCCC Student Success Coach and the IUOE Local 825 chief academic officer are vital partners in the program. Many HCCC initiatives include a Student Success Coach as a best practice to provide adult students with additional supports with navigating the college in terms of scheduling, instruction, and identifying resources to address other demands so they can attain success. The Student Success Coach often functions as a student advocate and navigator. The value of the Student Success Coach to the Earn & Learn program must be emphasized.
Q. What have been some key takeaways and lessons learned so far with the program?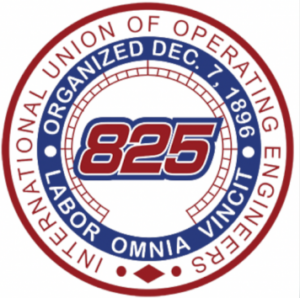 A. Creating connections among the student cohort has been an important and contributing factor to students' ongoing success. Students have been able to develop relationships virtually through class, as well as through the Earn & Learn in-person orientation. We also convened an in-person meeting with students after the first semester to discuss issues and challenges with the Earn & Learn program. The students receive both academic and emotional support and camaraderie from one another and benefit from cohort learning.
Also vital to identifying and addressing program challenges has been the open and clear communication channels established and nurtured between the HCCC Student Success Coach and the IUOE Local 825 chief academic officer.
We have learned that overall program flexibility is key as well. For example, to give students the greatest scheduling flexibility and to accommodate diverse comfort levels, they are given some choice with how their HCCC academic instruction is delivered. Specifically, for some classes student can take asynchronous online classes, or opt for synchronous instruction with a live instructor.
Q. What benefits have been achieved so far from the Earn & Learn program?
A. Many students are surpassing their own expectations for their performance in the program, which is wonderful to experience. As one student shared, "I didn't think I could do school again." Most are maintaining high GPAs. I feel that the personal growth experienced by these students will also translate into them becoming better members in the IUOE union and better employees.
Q. Are you aware of any other similar programs generating interest in the construction trade?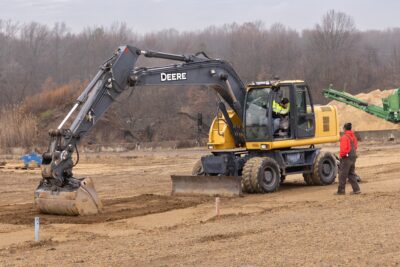 A. The Earn & Learn program is a bit unique. However, I believe the Carpenter's Union is working on something with the state Community College Consortium for Workforce and Economic Development and they are referring to their training centers as technical colleges. Some of the other construction trades also have arrangements with higher education institutions, such as with Thomas Edison State University.
Other Construction-Focused Career Initiatives
Q. During our interview last year, the goal of bridging the gap between student age when graduating Vo-Tech (17 years) and entry into an apprenticeship (age 18 required) was discussed. You were trying to arrange for a direct entry from Middlesex County Vo-Tech to a union apprenticeship with IUOE Local 825. Have you gotten any traction on that effort? Are there other construction-focused career initiatives you want to bring to our attention?
A. Opportunities are never lost! We continue to work on advancing this goal with Middlesex County Vo-Tech of bridging student age when graduating Vo-Tech and apprenticeship entry with us. The Vo-Tech's East Brunswick campus is located 2.5 miles from the IUOE Local 825 training center, so there is a genuine opportunity here for those students.
Ocean County has a heavy equipment program in their Vo-Tech and we [IUOE Local 825] had an initial meeting to learn more about that effort. We also had some of their students come to our training center for a site visit.
There are other exciting education-focused initiatives happening as well. For example, Local 825's sister organization located in the Midwest has developed a mathematics curriculum for high school students that local districts can use. The curriculum speaks to how the student would resolve math questions as an operating engineer. IUOE Local 825's academic officer is working to bring that curriculum to New Jersey, perhaps in collaboration with the non-profit Junior Achievement organization, which is focused on developing youth skills to promote economic success.
An innovative Rutgers initiative led by the Rutgers Youth Success Program (RYSP) in partnership with Rutgers Center for Advanced Infrastructure and Transportation (CAIT) recently received new funding through a PACE grant. The RYSP program will seek to place under-represented and justice-challenged young people in transportation and infrastructure careers. The grant will support development of a pre-apprenticeship program for Operating Engineers. HCCC will be the training partner for this 18-month program.
Middlesex County is home not only to Rutgers and IUOE Local 825, but also to many of the construction equipment dealers such as John Deere, Caterpillar, and Komatsu. However, there remains limited interaction between all these potential partners to discuss opportunities to diversify and strengthen the construction workforce.
Q. HCCC is a co-leader with Rowan College in the Construction Center of Workforce Innovation. Can you give us a brief update on that work? Do you collaborate directly with Rowan on these initiatives and, if yes, in what way?
A. This Construction Center of Workforce is part of the New Jersey Pathways to Career Opportunities (NJ Pathways), a collaborative program between the NJ Business & Industry Association (NJBIA) and the New Jersey Council of County Colleges. Year one work has been completed. There are ten centers for workforce innovation, including one focused on construction. HCCC is the administrative lead along with Rowan College of South Jersey for the construction innovation.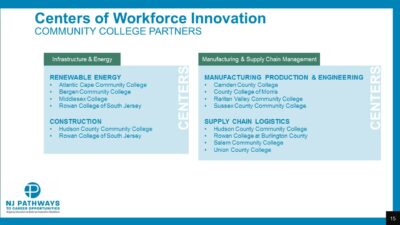 HCCC's efforts related to the Construction Center of Workforce Innovation, as well as through several other initiatives including the Earn & Learn Program, helped focus our successful work to expand the offerings in our construction management program. We have had an Associate Degree in construction management for a while, and now we also offer a one-year academic certificate requiring 34 credits and 2 proficiency certificates in either construction administration or construction technology requiring 13 or 14 credits. We also offer seven-to-nine individual courses that offer certification in specific areas of construction management. Students can opt to take one or two courses or all the offerings. If students opt to take these offerings as a noncredit course, they can transfer or articulate for credit in the HCCC Construction Management academic certificate or degree program.
HCCC also offers the opportunity to earn a National Institute of Certified Engineers and Technicians (NICET) certificate for the field of Asphalt Testing and other similar offerings, all of which have been very popular. In all, by offering these different degree and non-degree options, students are afforded flexibility to acquire skills that best meets their career advancement goals. This work also helps us advance equity goals as well, as students can learn at their own pace and effectively build their own career pathway beginning where they wish to start.
Q. Do you see any ways that NJDOT's Civil Rights, Human Resources, or other units could engage with you to advance programs in NJ?
A. The State and NJDOT are seeking greater diversity, equity, and inclusion in the construction field and on job sites. To achieve this goal, we need to operationalize strategies that will encourage greater diversity among persons who are considering construction as a viable career path and who may apply for construction jobs. Incremental progress in this regard is possible if we work together. We must look beyond meeting a requirement for a specific number of diverse workers on a job site – instead we should focus attention on developing a plan to generate overall interest in the field and set mid-point goals toward achieving that plan.
On another note, generating interest for a career in heavy equipment operations among youth, especially among youth living in urban areas, is challenging as these individuals often have little exposure to our trade compared to those who reside in more rural areas and who may have experience or familiarity with farm and other heavy equipment. Working with the Junior Achievement organization may provide another pathway for us to identify a new generation of prospective heavy equipment operators and other construction workers.
We would welcome opportunities to sit at the table with NJDOT to advance careers in construction and are open to developing and refining training and education programs to meet the diverse needs of the workforce.
---
Resources
Federal Highway Administration, Every Day Counts Round 7, Strategic Workforce Development
https://www.njdottechtransfer.net/swd/
Hudson County Community College, Workforce Development
https://www.hccc.edu/programs-courses/workforce-development/index.html
Hudson County Community College Center for Construction Management
https://www.hccc.edu/programs-courses/academic-pathways/stem/center-for-construction-management.html
International Union of Operating Engineers, Local 825
http://www.iuoe825.org/
NJ Community College Consortium for Workforce and Economic Development
https://njworkforce.org
NJ Department of Labor, NJ PLACE 2.0 Grants
https://www.nj.gov/labor/lwdhome/press/2020/20200131_njplace.shtml
NJ Department of Labor, Office of Apprenticeships
https://www.nj.gov/labor/career-services/apprenticeship/
NJ Pathways to Career Opportunities
https://njpathways.org/centers-of-workforce-innovation/
Rutgers Youth Success Program (RYSP)
https://cait.rutgers.edu/facilities-equipment/rutgers-youth-success-program/