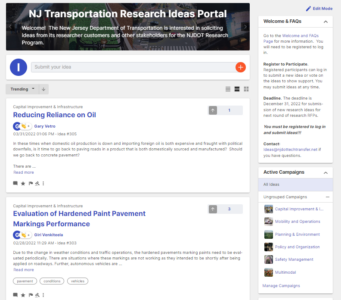 The New Jersey Department of Transportation's (NJDOT) Bureau of Research invites you to share your ideas on the NJ Transportation Research Ideas Portal.

We are asking NJDOT's research customers and other transportation stakeholders to propose research ideas for the NJDOT Research Program. Join us in finding workable solutions to problems that affect the safety, accessibility, and mobility of New Jersey's residents, workers, visitors and businesses.
REGISTER TO PARTICIPATE. Once you are registered, you may submit ideas at any time. If you registered previously, you should not need to register again. Click on the "+" button at the top of the page to register.

HOW DO I SUBMIT AN IDEA? Only registered participants can log in to submit a new idea or vote on other ideas to show your support. Register at the NJ Transportation Research Ideas here: https://njdottechtransfer.ideascale.com/
MORE INFO. Our Welcome and FAQs page offers more information.
NEXT ROUND OF RESEARCH. Submit your research ideas no later than December 31, 2022 for the next round of research RFPs. The NJDOT Research Oversight Committee (ROC) will prioritize research ideas after this date, and high priority research needs will be posted for proposals.
Questions about how to register?
Email: ideas@njdottechtransfer.net
For more information about NJDOT Bureau of Research, visit our website: https://www.state.nj.us/transportation/business/research/
Or contact us: Bureau.Research@dot.nj.gov or (609) 963-2242