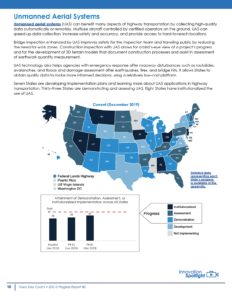 The second EDC-5 Progress Report summarizes the deployment progress of the 10 innovations in the fifth round of the the Federal Highway Administration's Every Day Counts program for July through December, 2019. The EDC program coordinates the deployment of new strategies and technologies within State Departments of Transportation. These strategies help transportation stakeholders to shorten the project delivery process, enhance roadway safety, reduce traffic congestion, and integrate automation to better serve the nation.
The national report analyzes each state's implementation stages for the 10 innovations using charts and maps. The report also presents the number of states that have demonstrated, assessed, or institutionalized innovations, and presents goals for how many states should reach these stages by December 2020. New Jersey Department of Transportation has fully institutionalized Crowdsourcing for Operations, Project Bundling, and Unmanned Aerial Systems. The agency has reached the assessment stage for Safe Transportation for Every Pedestrian, and the demonstration (testing and piloting) stage for Advanced Geotechnical Exploration Methods and Collaborative Hydraulics. Two other innovations are in the development phase.
FHWA compiles a progress report every six months regarding the state of practice for the current round of EDC initiatives. An online version of the EDC-5 Progress Report can be found here.