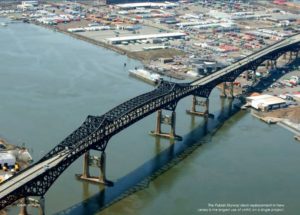 The EDC-4 Final Report highlights the results of round four of the Every Day Counts program to rapidly deploy proven innovations to enhance the transportation system. "Every Day Counts: An Innovation Partnership With States" documents progress in accelerating the implementation of 11 innovations in 2017 and 2018 and success stories from States across the country. View the report's maps and highlights to learn how innovation implementation was advanced across the country.
New Jersey's use of "Ultra High Performance Concrete (UHPC)" for the Pulaski Skyway deck replacement in northern New Jersey is a featured "Innovation Spotlight" example in this national report. The report highlights NJDOT's use of precast deck panels connected with UHPC, stainless steel rebar, and a polyester concrete overlay to maximize the durability of the new deck and minimize the need for future repairs and traffic disruption. The project is recognized as the largest user of UHPC to date in North America. Moreover, in 2012, when NJDOT selected UHPC for the Pulaski Skyway only five other transportation agencies had used UHPC for bridge construction. Since then, the skyway has served as an informative example for other agencies. NJDOT continues to use UHPC connections and completed five other bridges in 2018, bringing the State's total to nine bridges.
An online version of the FHWA report is viewable here.