The Federal Highway Administration's Local Aid Support team in the Office of Transportation Innovation and Workforce Solutions has announced the 2023 recipients of the Build a Better Mousetrap National Recognition Program for Transportation Innovation. Each year, FHWA recognizes and celebrates local government and tribal agencies who pioneer innovations that improve transportation performance. Winners are recognized for a range of innovations that save time and money while improving safety and customer service in their communities.
This year the FHWA again received a record number of nominations from 20 state, local and Tribal agencies. The FHWA recognized national winners for their innovations in four categories: Innovative Project, Smart Transformation, Bold Steps, and Pioneer. Winners were announced during the National Local and Tribal Technical Assistance Program Association's Annual Meeting in Columbus, Ohio (see the video).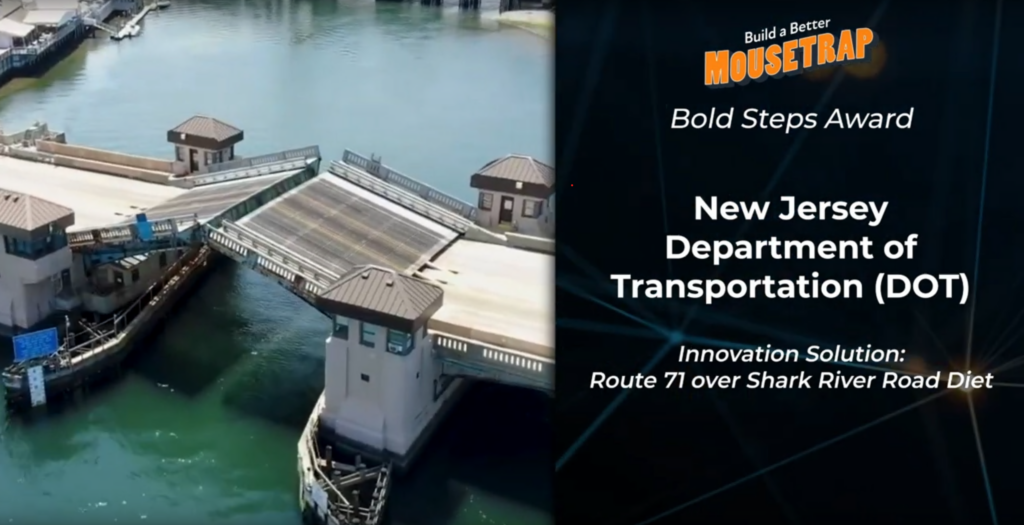 This year's Bold Steps Award honors the NJ Department of Transportation for its work on the Route 71 Drawbridge over Shark River between Belmar and Avon-by-the-Sea in Monmouth County, which suffered a mechanical failure in September 2021. Engineers devised a cost-effective design and implementation solution that preserved the drawbridge and kept it in safe operation. NJDOT implemented a road diet across the bridge, which allowed the Department to address safety issues. Traffic over the bridge was reduced from one northbound lane and two southbound lanes to one lane in each direction.
The Bold Steps Award recognizes locally relevant high-risk projects or processes showing a break-through solution with demonstrated high-reward.
NJDOT's Route 71 Shark River Bridge Preservation and Road Diet project was also recently selected as a regional winner in the 2023 America's Transportation Awards. The competition is sponsored by the American Association of State Highway and Transportation Officials (AASHTO), AAA, and the U.S. Chamber of Commerce. More information about the project can be found here.
---
The other Build a Better Mousetrap 2023 winners include:
Innovative Project Award: Confederated Tribes and Bands of the Yakama Nation | The Mobile Unit Sensing Traffic (MUST) Device
Specifically designed and implemented for use along rural roads to monitor traffic, detect dangerous events, and provide real-time warning messages to users.
The Innovation Project Award honors solutions that address any or all phases of the "project"' lifecycle, such as Planning, Design/Engineering, Construction, Operations and Maintenance. This project introduces new ideas, is locally relevant, original, and creative in thinking.
Smart Transformation Award: St. Louis County Public Works Department, Minnesota | Solar-powered Remote Cameras
The cameras provide more accurate and immediate access to information on road conditions that assists with emergency response while requiring less maintenance.
The Smart Transformation Award recognizes a locally relevant significant change in any transportation activity or process that is SMART "Specific, Measurable, Achievable, Realistic and Time-bound" in nature that results in improved efficiencies.
Pioneer Award: City of Walnut Creek, California | Safe Sightings of Signs and Signals (SSOSS) Software
An automated process for identifying and addressing obstructed traffic signals saving time and money while increasing data accuracy.
The Pioneer Award honors a locally relevant product/tool that is among the first to solve a maintenance problem with a home-grown solution.
---
The Federal Highway Administration Local Aid Support team supports the use of innovative solutions to improve transportation performance by working through the local and Tribal Technical Assistance Centers to provide training and access to subject matter experts.
For more information on Build a Better Mousetrap and other national initiatives visit, https://www.fhwa.dot.gov/clas/babm/.