In March 2022, the National Operations Center of Excellence presented New Jersey Department of Transportation with the Best Transportation Systems Management and Operations Project award for the agency's work on the US Route 1 Intelligent Transportation Systems (ITS) Improvement Project. Route 1 is a very active highway that runs through New Jersey, spanning the east Atlantic Coast and connecting Fort Kent, Maine to Key West, Florida. The route serves as a major arterial road for much of New Jersey, offering many points of commerce, utility access, and vehicular connectivity to the municipalities it traverses and for nearby communities. In South Brunswick, at the intersection of Route 1 and Ridge Road, the highway narrows from three to two lanes and saw queuing as a result of this lane reduction. This queuing caused travel time delays and could theoretically result in crashes.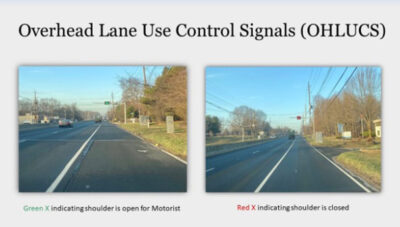 At the request of South Brunswick Township, NJDOT studied low-cost TSMO solutions to relieve this congestion. NJDOT worked with the community to implement Hard Shoulder Running while utilizing ITS technology including digital messaging, overhead lane use control signs, and CCTV to manage the implementation. Permanently deployed within a year at low cost to the taxpayer, this project resulted in a 45 percent decrease in travel time along the corridor during the PM rush hour and a reduction in congestion of about 29 percent at the bottleneck. Congratulations to all those who worked on this project and for this recognition of the project's success.
More detailed information on the planning and deployment and the benefits of this TSMO award winning project is described in this NOCoE Case Study.